Date/Time
Date(s) - Saturday, June 14, 2014
6:00 pm - 11:00 pm
CONCERT & AUCTION
The Dallas Clark Foundation is proud to welcome back The Hunter Smith Band in concert on Saturday night after the auction at the Spring Valley Golf Course in Livermore, IA. The Auction Party begins at 6pm and Scholarship award ceremony at 7pm, with live music following!
Open to the Public!
Tickets are $20 and are available at the event and gives you access to the auction and concert. Watch or participate in the live auction. If you are not a golfer this is a great way to help support the Dallas Clark Foundation and enjoy a great evening of music and entertainment.
About The Hunter Smith Band: When Super Bowl Champion punter Hunter Smith decided to retire from football after 12 years in the NFL he did so with a plan in mind. The first step was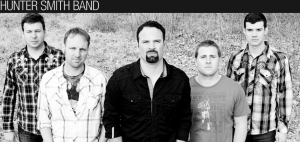 to strategically put together an eclectic group of musicians then couple them with an eclectic catalogue of self-written biographical songs. Next came the challenge of melding a singer-songwriter approach with a very serious and unique country rock sound. He pulled it off. It is called the Hunter Smith Band.
Crowds across the country leave a Hunter Smith Band show with the sense that they just saw a band that is going somewhere. Energy, musicianship, and rootsy storytelling by lead singer Smith (who has experienced a few things most front men haven't) combine to make a Hunter Smith Band show a one of a kind experience.
Location
Spring Valley Golf Course