Date/Time
Date(s) - Saturday, July 11, 2015 - Sunday, July 12, 2015
8:00 am - 5:00 pm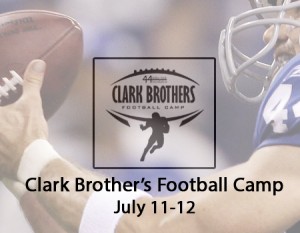 The 2015 Clark Brothers Football Camp dates are July 11-12.  (Find registration and waiver form at the bottom of this information).
Welcome to the 2015 Clark Brothers Football Camp!
The Clark brothers (Dan, Derrik and Dallas) of Livermore, Iowa have all played football at college level or higher and are excited to come back home for this annual football camp. Each year the Clark brothers team-up to help student-athletes (7th to 12th grade) who want to learn the fundamentals of football and provide them the tools to gain a competitive advantage on the playing field.
Featuring some of the most talented names in college and professional football, Dan, Derrik and Dallas thought it would be a great idea to ask their friends and former college teammates to help teach the necessary fundamentals of football. This year we are proud to announce the Clark Brothers Football Camp coaching lineup:
Dan Clark, Simpson College
Derrik Clark, Waldorf College, University of Iowa State, Carolina Panthers
Dallas Clark, University Iowa, Indianapolis Colts, Tampa Bay Buccaneers, Baltimore Ravens
Rob Bloomster, Waldorf College
Brett Heitland, Simpson College
Mark Kacrmarynski, Central College, Chicago Bears, Philadelphia Eagles, Indianapolis Colts
Andy Lightfoot, University Iowa
Kyle McCann, University of Iowa, New York Jets
Bruce Nelson, University of Iowa, Carolina Panthers
Brent Parrott, Simpson College
Nick Thummel, Waldorf College, University of Iowa
The Clark Brothers Football Camp focuses on teaching athletes the skills and fundamentals to play football at a higher level.
WHO: Grades 7-12 (going into 7th grade).
WHERE: Humboldt High School (practice fields behind the high school).
WHEN: Saturday & Sunday July 11-11, 2015 (Saturday: 9am-1pm and Sunday: 12pm-4pm).
WHY: Teaching the skills and fundamentals to play the game of football at a higher level. BRING: Shorts, Shirt, and Football Cleats.
COST: $25/Camper. Please make checks payable to: Dallas Clark Foundation (no cash please).
*Every camper receives a T-Shirt
PRINT and bring to first day of camp: Clark Brothers Football Camp Registration and Waiver 2015.
We look forward to teaching you the fundamentals of football, providing you with key insights learned over the course of many years, and to give you the opportunity to become the best football player you can become.
Sincerely,
Dan, Derrik and Dallas Clark
Location
Humboldt High School